The Roosevelt Jazz Band is in New York City this week, at the House of Swing.  The festival will be online and you can cheer on Roosevelt Jazz from home!
Want to watch the livestream?
If you are interested in watching, the performances are live streamed. Here are the details:
Roosevelt Jazz plays Saturday, around 10:45am EST (7:45am PST)
Sat Finals/Award Show 7:30pm EST, 4:30pm PST
Share this link with family and friends and cheer the kids on virtually at https://2022.jazz.org/essentially-ellington?fbclid=IwAR34orXAyr14gDXXloyudqnq-aAguFwEPYHe-kbgduxR0kGKF3oHt-cld4Q
EE FULL SCHEDULE:
Fri Competition Part I (8 bands) begins today at 2pm EST (11am PST)
Sat Competition Part II (4 bands including Roosevelt) begins at 10am EST (7am PST)
Sat Competition Part III (3 bands) begins at 1pm EST (10am PST)
Sat Finals/Award Show 7:30pm EST, 4:30pm PST*
Want to see photos?
Check out our Facebook page::
https://www.facebook.com/rhsjazzseattle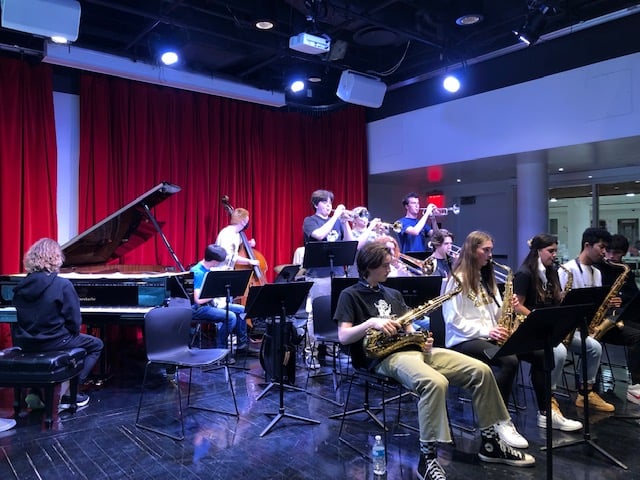 Rehearsal at the New School, Wednesday.