Hannah Mowry, Jazz Band 1 Director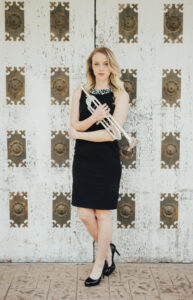 Hannah Mowry is a trumpet player, songwriter, educator, and advocate. Originally from Tri-Cities, Washington, Ms. Mowry obtained her Bachelor's in Music Education with a minor in Interdisciplinary Honors from Central Washington University and graduated from the William O. Douglas Honors College cum laude. She is now pursuing her Master's degree in Music Education from the American Band College of Central Washington University. 
As an undergraduate, Ms. Mowry served as the principal trumpet player for the top classical ensembles at Central Washington University, including the Wind Ensemble and Symphony Orchestra. She has been a featured soloist with the award-winning Central Washington University Jazz Band 1. Both the Wind Ensemble and the Jazz Band 1 have performed at the WMEA and Northwest Regional NAfME Conventions in 2016 and 2017. In her time as a student musician, she performed with artists such as Ingrid Jensen, Jeff Coffin, Terrell Stafford, Dafnis Prieto, Derico Watson, Victor Wooten, Matt Harris, and more.
Ms. Mowry can now be found actively performing around the greater Seattle area, primarily in jazz big bands and small groups of all genres. She currently plays with the PH Factor, the Jazz Police, ProAm Big Band, and more. In 2020, she recorded on PH Factor's EP release "In Case of Emergency: Break Glass", and in 2017 on Seattle-based singer/song-writer Alec Shaw's album "Uh Oh and the Oh Wells". Mowry plays with groups whose music ranges from folk to rock, blues, hip-hop, funk, and more. She is currently playing trumpet and writing music for a contemporary funk fusion group in Seattle called Jamn. Most recently in June of 2022, Ms. Mowry shared her own musical compositions that showcased her take on contemporary singer/songwriter and R&B/funk.
From 2018-2022, Ms. Mowry served as the Co-Director of Bands at Mount Si High School, teaching Wind Bands, Jazz Bands, Orchestra, and various music elective courses. Mount Si High School Jazz Band 1 is a five-time attendee to the Hot Java Cool Jazz performance hosted by Starbucks, and a seven-time finalist to the Essentially Ellington Festival in New York City. The band has been invited to the Midwest Band and Orchestra Clinic in 2017, as well as the Western International Band Clinic in 2019. In addition to these clinic and festival performances, the jazz ensembles perform at two home concerts each year, attend local festivals, and host an annual community Swing Dance that gives back to a local charity. 
Ms. Mowry co-founded the Central Washington University Women in Jazz Day in 2018, and has continued to be involved as a panel discussion moderator the last two years. As an active jazz musician and jazz educator, diversity, equity, and inclusion are at the heart of her musical philosophy.
Aimee Mell, Vocal Jazz Director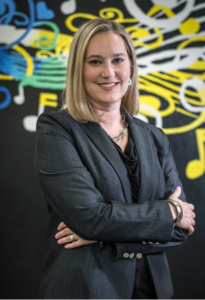 Choral director Aimee Mell has a passion for connecting people, cultures, and ideas through choral music. Since 2019 she has been building the choir and vocal jazz program at Lincoln High School. She has taught choral music in both public and private schools, and she led the Allegra ensemble of Seattle Girls' Choir for ten years. This summer she attended the New York Voices Vocal Jazz Camp where she studied vocal technique and improvisation, participated in ensembles, and developed solos guided by Greg Jasperse, Darmon Meader, Peter Eldridge, Kim Nazarian, and Lauren Kinhan. She's also studied vocal jazz with Greta Matassa, and piano with Charles Argersinger.
In 2019, based on her work with her choral students, she was selected as one of five conducting fellows from the United States to travel to South Africa for an exchange of music and culture, through the American Choral Directors Association International Exchange Program. Past awards also include the Lily Endowment Teacher Creativity Award, which allowed for travel and musical exchange in the small African county of The Gambia.
Trained in culturally-responsive classroom practices for the arts, she uses technology to highlight student voice and expression through song writing and group composition, and to accelerate learning in her ensembles. She is especially excited about the creative opportunities music technology provides for students who may not be interested in traditional music ensembles such as band or choir.
Dedicated to service, Ms. Mell has participated in district and school race and equity initiatives, and as a member of the culturally responsive teaching for the arts cohort. Outside of school she has served on the Washington State Board for the American Choral Directors Association, her regional Washington Music Educators Association board, and was a member of the Tacoma Arts Commission by mayoral appointment. In 2020, she joined the Board of Trustees for Seattle Opera.
Ms. Mell holds a B.M. in music education, an M.M. in Music Composition, and is a Ph.D. Candidate in Music History. She also has completed the Smithsonian Folkways Certificate in World Music Pedagogy, where her projects focused on traditional music of Morocco.
Michael Van Bebber, Jazz Bands 2 & 3 Director

Michael Van Bebber was raised in Seattle, and graduated from the University of Washington before going on to earn two M.A. degrees in classical trumpet and composition at Truman State University, and a D.M.A. in Jazz Studies from the Eastman School of Music in Rochester, NY. He performed many years as a member of the renowned Eastman Jazz Ensemble, and has shared the stage with many notable jazz artists including Lee Konitz, John Pizzarelli, the Woody Herman Band, Walt Weiskopf, Chuck Mangione, Jeff Beal, Walter White, John Fedchock, Pat LaBarbara, Marvin Stamm, and Bill Dobbins. He has also appeared several times at the Rochester International Jazz Festival, in both quintet and big band settings.
Mr. Van Bebber is a member of the Seattle Repertory Jazz Orchestra. As a composer, he has earned several prestigious awards in composition, including the 2004 MACRO Composition/Theory Award, the 2005 CBDNA Wind Ensemble National Composition Competition, the 2005 College Music Society's International Composition Competition. Mr. Van Bebber has been the director of the Junior Jazz Band at Washington Middle School, and the Director of Bands at Liberty High School. Mr. Van Bebber is currently on the faculty of Northwest school.
Deb Schaaf, Jazz Band 4 Director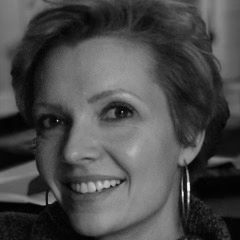 Deb Schaaf began teaching music in Seattle Public schools 20 years ago, and has built a reputation as an energetic and knowledgeable teacher and clinician. Ms. Schaaf's bands have won top solo, combo, ensemble and sweepstakes trophies at festivals and competitions throughout the Western United States, as well as 2018 and 2019 Outstanding Performance Awards from DownBeat Magazine. Her band was also selected to perform at the 2020 JEN Conference in New Orleans. In 2016, she was nominated by her students and was one of 20 winners nationwide of the 21st Century Fox/ Give a Note Foundation MusicEd Idol Award. She was the chair and founding director of the Jane Addams Middle School Music Department, and has served in leadership roles on writing teams for Curriculum and Assessment, and as a Seattle Public Schools Mentor Teacher. Outside of school, Ms. Schaaf enjoys bike riding and relaxing with her husband, Paul, and her three busy, music-loving kids. She has also served as a member of the Board of Directors of the Seattle Repertory Jazz Orchestra on the Education and Equity & Outreach Committees, is Director of the Dizzy Gillespie Ensemble with Seattle JazzED, and is the bari player for Jazz Night School's Big Band Blue.