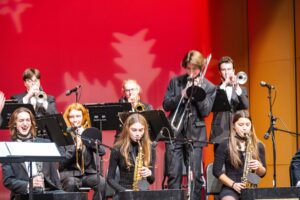 If you're interested in hiring the band, further information is available on our Hire the Band page.
For other questions, see the list of individual contacts here.
You may also contact us by U.S. mail at the following address:
Roosevelt Jazz Boosters
Attn:  Treasurer
1037 NE 65th Street #205
Seattle, Washington 98115
---
Want to be notified of news and events? Subscribe to the Roosevelt Jazz newsletter!
Enter your email address here: