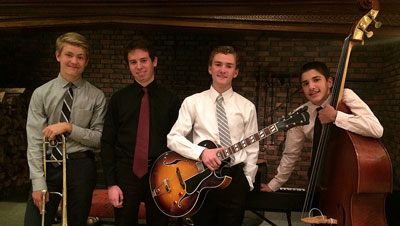 The Roosevelt Jazz groups may be hired for both private and public functions in our community. Whether you need the entire band, a Rhythm or Brass Sectional, or a small, intimate combo, please contact us for details about this exciting opportunity.
Proceeds are used by Roosevelt Jazz Boosters Club to further the Roosevelt Jazz program.
For more information, see below and then contact our Gig Coordinator for a discussion of your needs. Send an email with your contact information and requirements to: hiretheband@rooseveltjazz.org.
SO YOU WANT TO HIRE A COMBO?
We can play anything from early big band standards and show tunes (like "A – Train," "There Will Never Be Another You," and "Someday My Prince Will Come") to bop standards (like "Oleo," and "Joy Spring") to modern jazz tunes (like "Naima," "Nardis," and Wayne Shorter songs). If your group would prefer to hear something different, we can put together a few rock/funk/fusion songs like "Birdland" or "Purple Haze." We can be background or foreground music. We will base our set around what you want to hear as far as our capabilities can take us. If you aren't sure, we can give you a mix!
COST:
Basic ensemble (piano, drums, bass, saxophone) $400, add more horns at $100 per musician.
Generally this is for two sets, about 45 minutes each. Sometimes if your event is much longer, more playing time can be negotiated with the musicians prior to the performance.
Checks are made out to Roosevelt Jazz Boosters and sent to the treasurer of the group. Half of the fee goes to further the the Roosevelt Jazz program and half goes directly to the musicians.
ABOUT YOUR SPACE:
The trio needs an area about 8×8 – these instruments are stationary. The horns can move around, and tuck themselves in pretty easily, so an area 10×10 really gives the group a comfortable space in which to perform.
We must have access to an outlet. The group travels with extension cords and power strip but we want to be sure that your lights stay on and that none of your guests trip on cords! The band brings its own instruments and sound equipment: amplifiers for bass, keyboard and guitar. Horns usually do not need a microphone, but if a microphone is needed for announcements, the band can run one out of the amps. Please let us know if you have a piano which you'd like us to use instead of our keyboard.
IF THE BAND WILL BE PERFORMING OUTDOORS:
Same space and electrical requirements. The drums, piano and bass cannot sit directly on grass unless it is completely dry and the ground is hard. Otherwise some of the instruments (and high heels!) will sink into the ground. Plywood, or some sort of flooring should be put down. The bass cannot be played in direct sunlight. If night falls while the group is performing, some lighting will be necessary for them to read their charts.
PARKING AND UNLOADING:
Since there is a lot of equipment to move and set up – the closer the musicians can be to the stage when they are unloading, the easier and quicker it will be for them. (Then they can move their cars to wherever you want them to park during your event. It helps to know in advance whether there is a parking lot close by and what the fees are to park there.)
CONTACT INFORMATION:
Musicians need the name and phone number of someone who will be on-site during the time the band is scheduled to arrive and set-up.
Finally, we will make every effort to find a group to perform at your event. Given high school schedules and commitments though, we request at least a month's notice before your event.
For more detailed information, or to request a combo, please contact us by sending an email to:  hiretheband@rooseveltjazz.org.  Because the musicians have many obligations, including full high school schedules, we suggest making your request as far in advance as possible.
SO YOU WANT TO HIRE THE ROOSEVELT JAZZ BAND?
Imagine having a 20 piece jazz band (piano, bass, drums, guitar, 5 saxophones, 4 trombones, and 5 trumpets) play at your event. This versatile ensemble can play anything from the classics of the Woody Herman, Count Basie, Duke Ellington and Stan Kenton era, to compositions from contemporary composers. Performances have ranged from providing background music for intimate gatherings to performing before crowds of 20,000 at international jazz festivals.
Cost:
The cost for an evening of the Roosevelt Jazz Band is $1,800. Special rates can be negotiated for public service events. Checks are made out to Roosevelt Jazz Boosters and sent to the treasurer of the group. All of the money goes toward maintaining the jazz program at Roosevelt High School.
Length of Show:
The band generally plays two sets of an hour each with a 15-30 minute break in between.
Performance Needs:
The band requires a fairly large area in which to perform; the space should be approximately 24 by 15 feet. They also need access to power outlets for the guitar, bass, and electric piano, if another piano is not provided. A minimum of two microphones are needed, one for the piano and one for announcements, but more microphones are preferred in larger halls.
Unloading:
Because there is considerable equipment to be moved, it is best if the musicians can obtain loading/unloading access close to where they will be playing.
Contact Information:
For more detailed information, or to request the band, please contact us by sending an email to: hiretheband@rooseveltjazz.org. Because the band has many obligations and the musicians have full high school schedules, we suggest making your request as far in advance as possible.
Thank you for your interest in Roosevelt Jazz!