Just a quick update to let you all know how excited we are to welcome Hannah Mowry as Roosevelt High School's new Band Director. She comes to us most recently from Mt. Si High School where she served as the Assistant Band Director. Here's a short bio below, and we encourage you to check back for updates later this summer!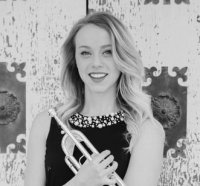 Hannah Mowry (pronounced "MORE-ee") is a trumpet player and 2018 cum laude graduate of Central Washington University and the William O. Douglas Honors College with a degree in Music Education.​​​
Hannah has served as a featured trumpet soloist with the CWU Jazz Band, Wind Ensemble and was the principal chair for the Symphony Orchestra. In addition to her playing at CWU, she has performed in small groups of all genres around the state of Washington. She has recorded with Alec Shaw, a Seattle-based artist on his 2017 album "Uh Oh and the Oh Wells," available on iTunes and Spotify.
At Central, Hannah worked both as a volunteer and paid coach in various marching, jazz, and concert bands. She has worked in the Mercer Island, Yakima, Ellensburg, and Richland School Districts. Most recently, Hannah completed her student teaching at Mountain View High School in the Evergreen School District under the mentorship of Sam Ormson, working with Symphonic Band, Concert Band, Symphony Orchestra, Jazz Band I, and Marching Band.​
We are so excited to welcome Hannah, and support her as she moves into the Performing Arts Center at Roosevelt High School, and gets to know this year's bands!