As part of the 2019 Earshot Jazz Festival, the Roosevelt Jazz Band takes to the stage with treasured Seattle multi-instrumentalist and Earshot Artist in Residence Jay Thomas and EWA. Thomas has forged a collaboration with outstanding artists from Japan, known as the East West Alliance (EWA). This year's EWA includes vocalist Maya Hatch, a Roosevelt High School grad and former student of Scott Brown #scottbrownskids. Don't miss this exciting event!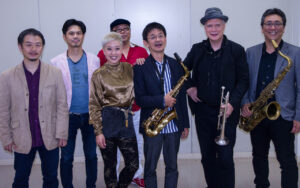 Date: October 19, 2019
Time: 7:30 pm
Location: Roosevelt High School Performing Arts Theater
Tickets on sale now direct from Earshot Jazz.
$22 adults, $20 Earshot members & seniors, $10 Students & veterans/military