Tickets available  HERE !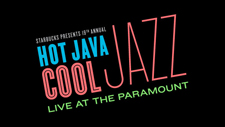 Friday April 25, 2014
Doors at 6:00 pm
Show at 7:00 pm
THE PARAMOUNT THEATRE
911 Pine Street
Seattle, WA 98101
Five supremely talented high schools. One brilliant show of support.

On April 25, 2014, five of the hottest Seattle-area high school bands will come together and display their chops for one amazing, jazz-filled evening at the Paramount Theater.  But don't take our word for it; come hear them for yourself at Starbucks' 19th Annual Hot Java Cool Jazz.
As part of Starbucks ongoing commitment to supporting the local youth arts community, all proceeds from ticket sales will benefit participating schools' music programs.  This year's participants include Ballard, Bothell, Garfield, Mountlake Terrace and Roosevelt High Schools.