Vocal Jazz | May 23, 2023, 4:30 – 6:30 pm
Jazz bands 1, 2 and 3 | June 12, 13, 14 and 21
Students and parents: Please review important details about Roosevelt Jazz Program specifics in the Program Overview. (Important note for Rhythm Section players: we include both Jazz Band and Vocal Jazz Rhythm sections in this audition.)
Read on for all of the details…
But, first, a word of encouragement from the directors:
The Roosevelt Jazz Program is truly one of the great jazz education traditions in the country; but it's only great if we have students who are excited about learning, and excited about playing with others. Bring your passion, bring your positivity and GO FOR IT!
Best of luck,
Ms. Mowry, Ms. Mell and Mr. Van Bebber
WHEN
Auditions for the Roosevelt Jazz program will be held late May and early June. Auditions will be held based on section and will be grouped by returning and incoming students.
Vocal Jazz will take place Tuesday, May 23 starting at 4:30 pm. Auditions are open
Schedule:
| | | |
| --- | --- | --- |
| Date | Time | Who |
| May 23, 2023 | 4:30 PM  | ALL VOCAL JAZZ |
| June 12 | 4:00 PM | Returning Brass |
| June 13 | 4:00 PM | Returning Sax/Reeds |
| June 14 | 3:00 PM | All Rhythm section players* (Returning students and incoming 9th graders) |
| June 21st | 3:00 PM | All Incoming 9th Grade Horns: Brass/Sax/Reeds (Returning and incoming) |
| | | |
* Both Jazz Band and Vocal Jazz Rhythm sections will be placed based on the outcome of this audition.
WHO
You!
Depending upon the number of audition submissions, we may or may not have 4 jazz bands next year. We are looking for committed student musicians who are truly interested in learning about and playing jazz music. 
Once placed in a group, you will be expected to attend rehearsals and performances. We will try to place all qualified applicants, but we will also be keeping the size of our bands small in order to provide the best experience for all participants. 
HOW
Instrumentalists and Vocalists: Please sign up for auditions using this online form. (or scan the QR code below)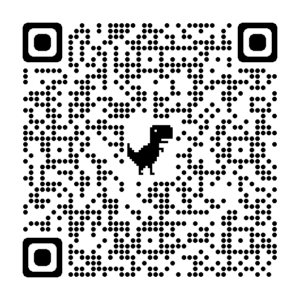 Vocalists : please ADDITIONALLY fill out and bring to the audition this PDF form.
WHAT 
Directions for all musicians:
Here are the THREE PARTS for your audition. 
Singers and drummers note: detailed requirements are listed separately, below.
Part 1: Chromatic Scale
From lowest note, up two octaves and back down. Legato eighth notes at Quarter Note = 72bpm or higher. Strive for even tempo, rich, full sound, smooth, connected and defined articulation, and consistent tone.
Part 2: Choice piece
Pick a Jazz selection which represents your strengths and passions as a musician. This can be a transcription, etude, or jazz standard. It is not in your best interest to play some "jazzed-up" version of a classical, ragtime, or pop tune. We are looking for musicians who are truly interested in Jazz Music. Your choice tells us a lot about where you're at! It also makes sense to choose something that contrasts in style, feel or tempo from the required piece. Length will not exceed 90 seconds.
Part 3: Required piece
'Softly as in a Morning Sunrise' in C minor
SWING FEEL, quarter note= 120bpm or faster, but not too fast!   [tempo indication]

Remember, improvisation is just creating a new melody that fits with the existing chords. We want to hear your great sound, get a sense of how you can swing, and see how you are doing with improvisation. Don't worry if it's not "advanced"; we are all at different levels of experience.
Playing instructions:
Play one time through the melody, play a little 'solo break' in the last two bars, then improvise over the chord changes for one chorus only. 

Do not play the melody as it is written, rhythmically, but rather, swing it in a way which sounds good to you. 

Listen to a variety of recordings, both vocal and instrumental, to give you a better idea of how jazz musicians perform this tune. 

You may add small embellishments and approach tones to the melody as you wish; but be tasteful and don't overdo it! 

Above all, keep great time, swing like mad, and address the chord changes. 
Singers
Chromatic Scale – 1 octave, up and down 

Range Check – Vocalization to determine SATB.

Choice Piece – Use a backing track from Youtube or iRealPro. 

Required Piece – Softly as in a Morning Sunrise: use a backing track from Youtube or iRealPro.

Sing through the form once.

Second time through, improvise until the return of the A section, then finish with words. Improvise can be scatting, back phrasing, or melodic invention.

Please print and bring this form to your audition: Vocal Jazz Audition Sheet Mell_PDF
Drummers
Open-close 5 stroke roll, on snare drum

Open-close Paradiddle, on snare drum

Play Medium Tempo SWING FEEL, full kit. Establish a groove, add fills and hits, play for 12 bars (one blues choruses), then solo for one chorus minimum/two choruses maximum and bring it to a strong close. Bonus points if you can keep your hi-hat on two and four, while you solo!

Play Bossa-Nova feel. Establish the groove, add fills and hits as you see fit. Play for 8 bars.

Play even-eighth ballad feel using BRUSHES. Play for 8 measures in 4/4 time, Quarter note= 60-72bpm. Add cymbal textures, rolls with mallets, varied hi-hat sounds (in addition to crisp hi-hat on two and four) and create drama.

Transcription of your choice. Name the artist and recording upon which your transcription is based.

Kick a Big Band shout chorus! Choose your favorite shout chorus from a Big Band swing tune and demonstrate set-ups and fills as you play the groove. BONUS points if you can SING the shout chorus while you do the set-ups! Be sure to STATE THE TUNE, BAND, and DRUMMER, from which you are doing the shout chorus.

Drummers should play the Two Rudiments, Swing Feel, Bossa Feel and Ballad feel (brushes), then announce and play your Shout Chorus. We will also be combining rhythm section players into mixed-level groups for the audition.
WHERE
Roosevelt High School Band Room.
For weekend auditions, please plan to enter the school through orchestra room door on the east 15th Ave NE side of the school. 
MORE INFO
Please review the Overview of Program Requirements and note that incoming 9th grade students who play a BAND instrument, must register for Concert Band.
Other options for band musicians are:
Symphonic Band (intermediate)

Wind Ensemble (advanced, by audition)

Percussion Ensemble, for advanced students of percussion only
SINGERS must register for concert choir, or they can also participate in band or orchestra if they play an instrument.
NOTE: 9th grade pianists may register for Concert Band, and will play mallet instruments. They can also register for choir and accompany the choir.
Please email ensemble directors for additional information:
Jazz Band 1 Hannah Mowry
hsmowry@seattleschools.org
Jazz Band 2 and Jazz Band 3 Michael Van Bebber
mvanbebber@gmail.com