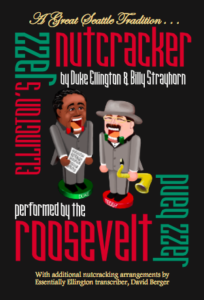 Tickets on sale now!
The Roosevelt Jazz Band performs the Jazz Nutcracker by Duke Ellington & Billy Strayhorn
Saturday, December 7, 2019 at 7:30 pm – Buy Now
Sunday, December 8, 2019 at 2:00 pm –   Buy Now
at the Roosevelt High School Performing Arts Theatre, 1410 NE 66th Street, Seattle WA.
Ticket prices are $18.00 for adults, $13.00 for students and seniors.
The Roosevelt Jazz Band will perform the Jazz Nutcracker at the Bainbridge Island Museum of Art on Friday, December 6th at 7:30 pm. Tickets for that show can be purchased here –  Buy Now
For additional questions:
Email: tickets@rooseveltjazz.org