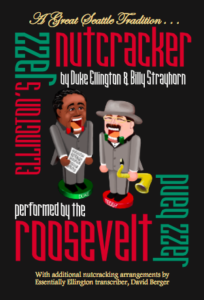 Thank you to everyone who came out and supported Roosevelt Jazz in December 2018.  We were delighted to have such great audiences. We're already thinking about 2019 and hope you'll join us.
The Roosevelt Jazz Band performs the Jazz Nutcracker by Duke Ellington & Billy Strayhorn
Saturday, December 7, 2019 at 7:30 pm
Sunday, December 8, 2019 at 2:00 pm
at the Roosevelt High School Performing Arts Theatre, 1410 NE 66th Street, Seattle WA.
Ticket prices are $18.00 for adults, $13.00 for students and seniors.
Tickets will be on sale in the fall of 2019.
For additional questions:
Email: tickets@rooseveltjazz.org
Telephone: 206-201-1650
In addition, on December 5th the Roosevelt Jazz Band will perform selected pieces from the Jazz Nutcracker for over 1,200 fourth and fifth graders from the greater Seattle area. It is always our hope that this Outreach Concert will inspire young musicians to keep practicing and performing!