The Roosevelt Jazz Band is one of 15 nationwide (out of 100 applicants) who were selected to participate in the 28th Annual Essentially Ellington Jazz Festival and Competition in New York City (May 11-13, 2023). Congratulations to the band!
Along with the three-day immersion program in jazz workshops, jam sessions, rehearsals, and performances, the Boosters are planning cultural and jazz-related events and experiences in the Big Apple.
RHS Bands also embarked on a new era in the fall of 2022 with the hiring of our incredibly talented and inspiring director, Hannah Mowry, who will be one of a handful of women directors to take the Ellington stage. Being selected to participate in this year's festival is recognition of hours of practice and years of hard work our talented students and director have put into their craft.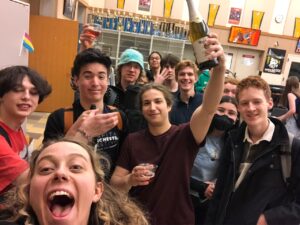 But with this amazing opportunity comes significant costs. The Boosters need YOUR help to make this dream a reality for these deserving students. We want to ensure each and every student who was invited can fully participate in this unique and rewarding musical experience. Please consider DONATING TODAY to support this trip for our amazing young musicians!

Here is the band with Director Hannah Mowry the day they learned they were chosen as participants.