New CDs
Europe Live Montreux '14 – $20
Also available for MP3 download!
Recorded live in July, 2014 at the Montreux Jazz Festival
Europe Live Montreux '14 is the Roosevelt Jazz Band's homage to the classic Count Basie Band's 'Montreux '77' album: Packed with great sections and a ton of fantastic soloists, this recording is Roosevelt Jazz at its very best.
"This band is something I shall forever remember and cherish with pride, joy and love."
– Scott Brown
Jazz Night 2014 Live – $20
Recorded Live December 11, 2014 at the Roosevelt High School Performing Arts Theatre
Jazz Night 2014 is the second volume in our live Jazz Night series – It's a slice in time, a wonderful moment in history: Talented new players, experienced veterans, all part of the long tradition of Jazz at Roosevelt.
"Now that's cool! This will be a neat keepsake and educational tool for our students and families."
– Scott Brown
Jazz Nutcracker CDs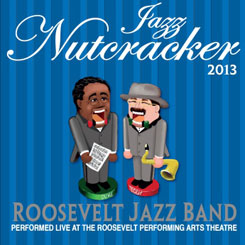 Nutcracker 2013 – CD VERSION SOLD OUT
Still available for MP3 download!
Ellington's Jazz Nutcracker Live
Featuring the 2013-14 Jazz band, with selections from David Berger's "Harlem Nutcracker".